today i'm linking up with E over at 'e, myself and i' for...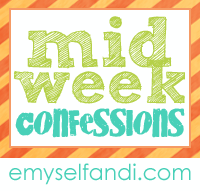 this weeks confessions...
- it doesnt bother me that i have been talking non-stop about cheer camp even though no-one else wants to hear it... i had the BEST time!
end of cheer camp with coaches neda, gerrin, john and derrick.
- i've realised i don't mind if i'll never be the best cheerleader. i'm just soooo happy to have found a sport that i love :)
- i never thought id put adds on my blog and now they are there big and bold for the world to see. i'd love to know if they bother you????? and wether you've clicked on them????
- my unique hits on this blog rose dramatically simply because i said the name tarralyn mcnitt in a
post
.
- i said tarralyn mcnitt again just to see which of my posts will be more popular. (dont hate me - its an experiment in tagging blog posts, not shameless plugging my blog - i swear!)
- im putting off getting a new part-time job for 2012 more and more. i just dont want to commit to anything right now.
can't wait to see what everyone else is confessing...
maybe next week i'll have something more personal to share...
we'll see.
:)
xx